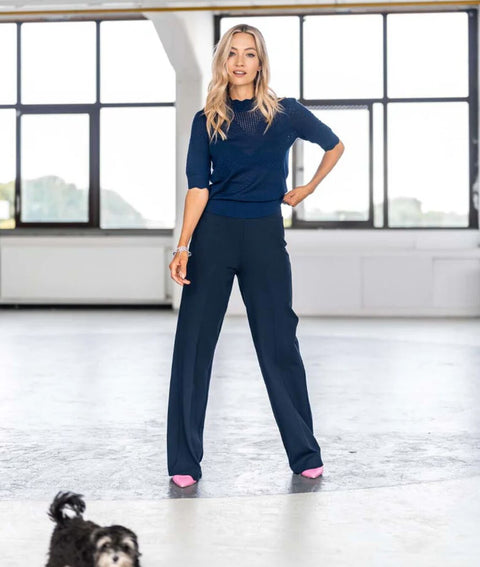 BLOG | Your outfit in Ton sur Ton is 'color on color' in fashion
A BON TON OUTFIT
TON SUR TON
Blog Nicole & Ilse
At PLEIN PUBLIQUE we love ton sur ton (The meaning and explanation can be found below). And not just the name - how French do you want it after all? – the word has a great mouthfeel. And once you've tasted it, you'll want more. In this blog we explain to you what ton sur ton clothing means, where it comes from and especially what it does for you!
WHAT IS TON SUR TON?
For convenience, we start at the beginning. Ton sur ton is an unadulterated fashion term, it means freely translated 'color on color'. So with fashion outfits, this is an outfit in which almost all parts have the same color, or are built up in different gradations of the same color.
You probably knew about this already, but we had to include it.
WHY THE FRENCH NAME?
Why is ton sur ton called ton sur ton? We suspect because the French were there to give it a name, before less hip countries caught on. That's how they are, les Chéries. And that's a good thing. Because 'tona nad tonom' or 'renge göre renk' sounds a lot less appetizing.
To be fair, the French already had a bit of a patent for it: before the term became ton sur ton bon ton (we're enjoying this a lot : ) it was called 'camaieu' in the art and fashion world. And we understand why that word didn't stick. How do you pronounce camaieu anyway…. looks like Finnish. So Ton sur Ton it is!
WHO INVENTED TON SUR TON?
We stick to Coco Chanel. Because we always do that when no one can prove otherwise ;)
THE INS & OUTS OF TON SUR TON
Ton sur ton = chique
Ton sur ton is chique! Okay, that might be a bit succinct. But a quick google search yields a lot of ton sur ton fans in upper class circles. Our Queen Maxima, for example. She is not exactly someone you can regularly catch in a fashion faux pas. Whether she opts for an outfit in diplomatic beige, wears a flaming red business babe look or dresses head to toe in dark purple: she looks stunning. There is no tiara involved. To stay in royal circles: Kate Middleton & Meghan Markle also seem to like ton sur ton.
Ton sur Ton x Mix & match
As with everything in life, a little twist makes things interesting. So opt for a mix of different fabrics and textures that enliven the monochrome color image. Combine shiny satin with matte merino wool, smooth leather with chunky knits, airy broderie Anglaise with sturdy denim, and don't forget that there are prints. No, ton sur ton does not automatically mean solid color! If you combine a dark blue blouse with a refined off-white polka dot print with plain dark blue items, this still falls under the ton sur ton principle. Melange knitwear? Ditto. It's all about the mix.
And if you think that ton sur ton is only suitable for neutral basic shades: think again. From head to toe fuchsia rose, cobalt blue or lime is also ton sur ton. Blending in with boredom; does not apply.
In addition...

If the eye is not distracted by large color contrasts, the different elements of your outfit will merge optically and you will look taller and slimmer. Good to know!
Par example… if you have relatively short legs and a long torso, the use of ton sur ton colors causes the boundaries between your individual body parts to blur and that visually pulls things together. The balance is restored this way.
TON SUR TON x PLEIN PUBLIQUE
By going in depth in terms of color choices, we give you many options for ton sur ton outfits. At PLEIN PUBLIQUE you rarely find fleeting trend colors – except for the upcoming season, but we'll get to that later. Ultimately, we would rather see you enjoy our carefully made items for as long as possible.
Fits a sustainable wardrobe, fits the time when we have to avoid wasting raw materials. Our color dark blue, for example, has been around for quite some time. We want the shirt you buy today to match the pants or vest you've had in your closet for a while. This is how we do it with more colors – we select them not only because we like them, but also because they are timeless.
Sweater L'IRIZ with ton sur ton pants LA POISY
In any case, don't be too hard on yourself. Do you look in the mirror and think 'mwah… am I missing something'? There is no penalty for switching things around a bit. With a well-chosen accent you give your ton sur ton look a twist. Shoes in a bright colour, bright pink bra under your beige blouse, black belt with your white linen outfit… If you feel good about it, you should limit yourself only to fit the fashion trend.
Love, Nic & Ilse
Cardigan Kimi with ton sur ton top LA LOULOU and pants LA POISY
Shop your TON SUR TON look now: