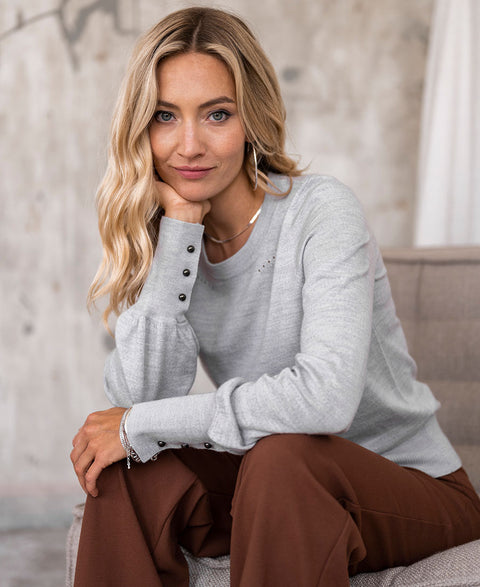 FAQ merino wool sustainability
SUSTAINABILITY IS KEY

We occasionally get questions about our merino wool. Where our merino wool comes from, whether merino wool is sustainable, and about animal welfare. We have listed the answers, are you ready?
1. Is merino wool a sustainable material?
Yes! Merino wool is 100% biodegradable. Can be put on the compost heap without any problems, although it takes a year before everything is absorbed by the soil. Good to know, isn't it, that after your lifetime the remains of your merino wool darlings will not pollute the earth? But it's even better to recycle your sweater...
2. Is merino wool 100% recyclable?
Also yes! Hand in at the environmental depot or in the clothing bin next to your local supermarket: merino woolen clothing that is not (any longer) suitable to wear is offered by recycling hubs to specialized companies that cut and shred everything so that yarn can be spun again. This is called the fiber to fiber method.
What was once a piece of clothing is recycled back to the same category as much as possible. Only if that is not possible for whatever reason will it be moved to a lower category. This includes filling for mattresses and car seats, or fibers for carpeting. Either way: merino wool is circular.
Merino wool comes from a renewable source. A.k.a another way of saying that it 'grows back on its own'. Fait accompli. So far the most important general sustainability aspects of merino wool. But what about our own merino wool? We have prepared a Q&A for you, read all about those down below.

3. Where does your merino wool come from?
Our merino wool comes from Australia. Yeah mate, that's where the sheep graze that provide the wool. Australia is the (merino) wool barn of the world, from where the wool is distributed all over the world for further processing. Because those Aussies are the best at breeding sheep, but they have no knowledge of textiles. Each their profession.

4. Are the sheep treated well?
We source our wool from a reputable wool supplier that has the Responsible Wool Standard certification. The Responsible Wool Standard (RWS) requires all parts of the chain, from wool farmers to the seller in the final business-to-business transaction, to be certified. Farmers and ranchers of RWS must meet requirements in the field of animal welfare, land management and working conditions.
We have deliberately chosen a wool supplier who has this certification so that we can do what we do best without interruption: design your new favorite sweaters.


Last but not least, merino wool is really super sustainable
Merino wool does not* need to be washed. parbleu? You read that right. Merino wool is naturally anti-bacterial and self-cleaning. The self-cleaning properties are due to Lanolin, the layer of fat that coats each wool fiber. Fat good stuff :) Lanolin ensures that moisture and dirt remain on the surface and are not absorbed into the wool fiber. The anti-bacterial effect is due to the proteins in the fat: they break down the bacteria so that odor is neutralized. Musty-smelling merino wool - or mEWrino wool - improves enormously if you hang it outside to air for a few hours. Mother Nature invented fog as a genius tool. Perfectly timed in the fall, the time of year for your warm sweaters to resurface.
Have the sweater hung out in the bathroom also works, especially after a steaming hot shower. Odors disappear like snow in the sun. Goodbye wet dog. Bonjour sustainable lady! You save water, energy and detergent.

Wolwasmiddel EUCALAN 500ML Jasmine
* Sometimes you can't avoid a wash. For example, if you have messed up and you cannot get the stain out with a soft hand and a damp cloth. Merino wool is fortunately allowed in the washing machine, but make sure you follow the washing instructions carefully. We have written about it before, you can read all the ins & outs here.
Merinowollen vestje LA FRAGANCE

Merino wool keeps you warm
Huh, what's that doing in this list again? Wasn't it about sustainability? Woky woky girlfriend: wearing warm clothing = less heating. Better for the environment. And for your wallet, but that aside.
As a true and worthy conclusion, we treat you to a striking quote from Vivienne Westwood. Better well stolen than badly made up.
" Buy less, choose well, make it last "

xxx Team Plein Publique

Psst, now that you're here : ) > SHOP MERINOWOL