Turtleneck sweater LES SALLES Royal blue
Regular price

€99,95
Sale price
✔️ We donate 1% back to nature
Oui à l'Amour! We feel the love for mother earth, love for everything she makes to grow and bloom. There is so much to be thankful for, and we express that not only in words but also in deeds. That is why we donate 1% of our turnover back to nature. And with your purchase you participate in this.
✔️ Shipping
Within how many days will an order be shipped?
On working days, the same day! But please note, after 20:00 we go home, so keep that in mind. Please note that we are dependent on couriers and there may be delays with them beyond our control.
* During holidays and busy periods  such as Black Friday, Christmas etc. we may deliver a little later, so keep that in mind or ask us before ordering via hello[@]pleinpublique .com.
THE NETHERLANDS//
Yeah, important; how do I receive my package as quickly and quietly as possible? Easy. Normal packages within the Netherlands are sent with PostNL, letterbox packages with DHL. The package is offered once. If you have the package delivered at home (or at work) and you are not present; then the postman will leave a message for you with a 'not at home code'. With this code you can make a new delivery appointment via the internet. Or you can pick up your package at a postal location of your choice - there are no less than 2700 throughout the Netherlands. Your package will be kept for you here for 1 week, if it has not been collected within that time it will be returned to PLEIN PUBLIQUE. But you don't want that, so keep an eye on that calendar!
BELGIUM//
Yeah , very important, you have also been thought of ;-) Packages with destination Belgium are sent with PostNL. You can have your package delivered to a home address or address of a company of your choice - Wow! Very handy! The package is offered once. If you are not at home, the courier will leave a message for you with a 'not at home code'. With this code you can make a new delivery appointment via the internet, or pick up your package at a postal location of your choice. Your package will be patiently waiting for you for 1 week. If it hasn't been picked up by then, it will - sadly and disappointed - go straight back to home base. You don't want that on your conscience, do you? So keep an eye on that calendar!
✔️ Free returns?
Whether PLEIN PUBLIQUE offers free returns? For some countries we do indeed, pls check here.
Additional, because sustainability is a high priority at PLEIN PUBLIQUE, a contribution of € 5.95 is charged for return and processing costs when returning discounted items. This is calculated per return, not per item of course.
Rating ⭐⭐⭐⭐⭐ 9.6
Our dear customers give us an average score of 9.6. Of course we are very happy with that, but more importantly ... we do everything we can to keep this score high.
If you want to read the reviews, click here.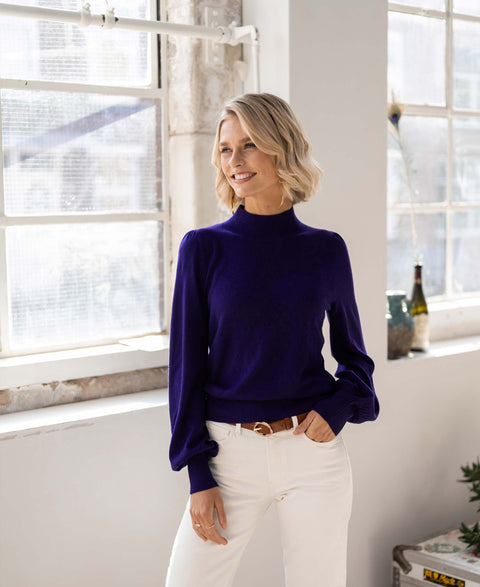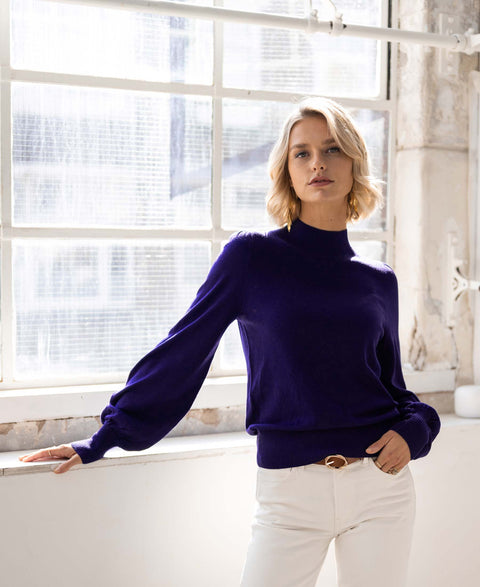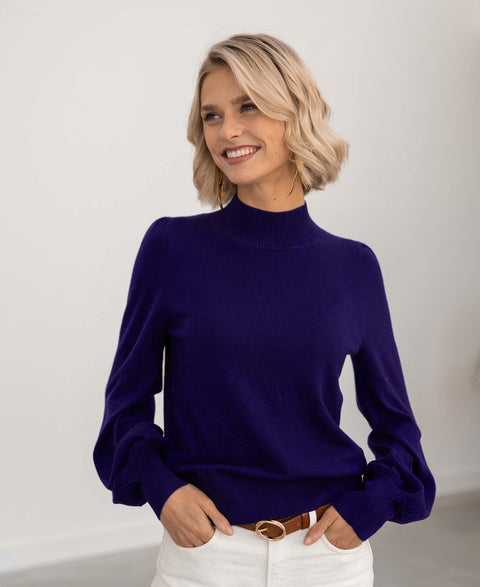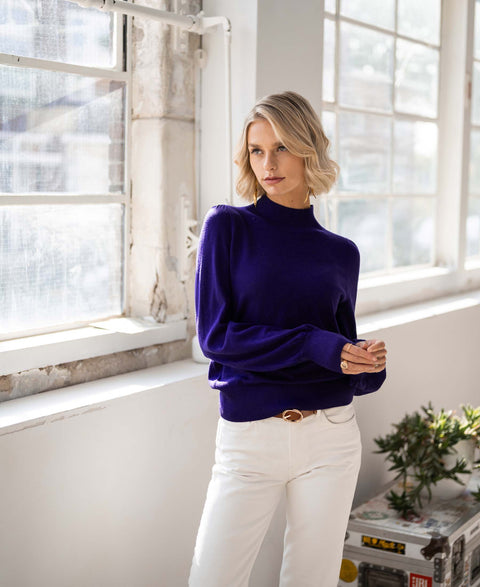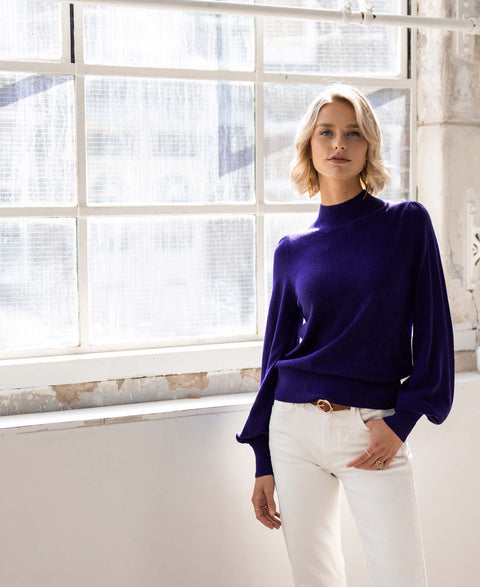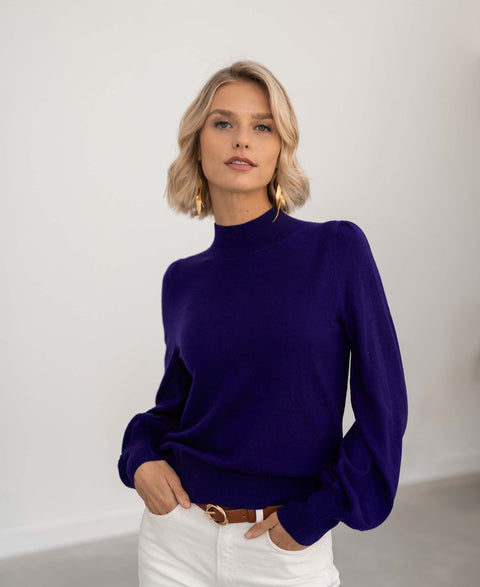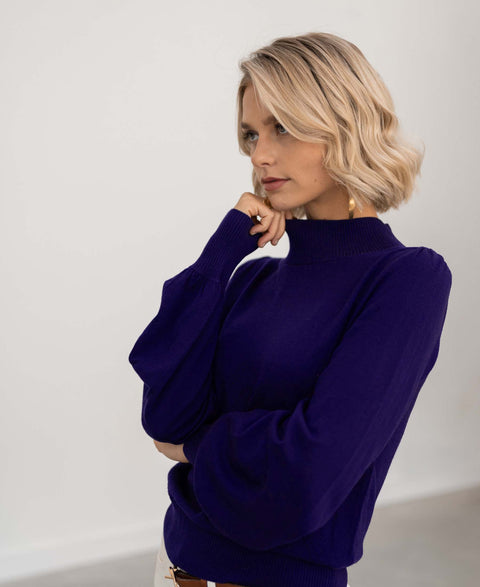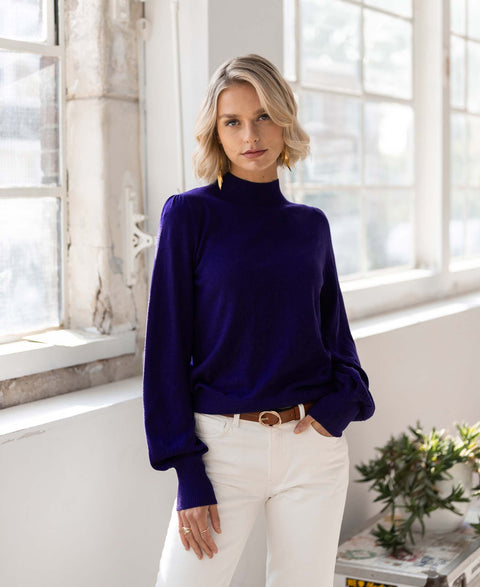 Merino wool sweater LES SALLES is not just a turtleneck: the high cuffs and the on-trend puff sleeves breathe new life into the iconic classic. The lace detail is collateral damage, born of our love for refined details.

Color: Royal blue - a deep purple-blue color that got its name by being associated with the clothing of the royal house, or the color ultramarine, which is also called kingsblue.
100% merino wool knit sweater with a slightly bloused silhouette - the hem rests on your hip - and balloon-shaped sleeves with a small puff on the shoulder. High rib knitted cuffs, a short turtleneck, and a pointy lace detail on the front and back.

100% merino wool, does not itch
Lightweight fine knit, open knit lace detail on front and back

Rib-knit turtleneck

Long balloon sleeves, puff at the shoulder, blousing at the high cuff

Rib-knit hem and cuffs
Fabric // 100% Merino wool, finely knit, super soft and one of the most beautiful wool types available. With built-in thermostat; warming when it's cold and ventilating when it's hot. This fine wool is traditionally even used to make underwear.

Washing instructions // Only if you insist. Whaaaaat? Yes, you read that right! Merino wool thrives if you hang it outside for a few hours to air. Odors disappear and the wool fiber returns to its original shape. (it's like curly hair- or wait, it's actually curly hair too) You can wash it every now and then, but only using the wool wash program and no spinning on high frequencies!

Do not tumble dry (dûh), but lay your garment down on a flat surface to dry instead. Treat your sweater with love and you will get it back in style and class. Good deal right?

We have written an entire blog about taking care of merino wool. Worth reading if you want to keep your sweater beautiful :-).
>> WASHING INSTRUCTIONS MERINO WOOL

Size advice// The sweater is made to be oversized, just how we like it. If you want to wear the sweater like this, you can order your regular size.

Model// Iris is 176cm tall and wears size S
| | | | | | |
| --- | --- | --- | --- | --- | --- |
| | XS | S | M | L | XL |
| LENGTH | 56 | 58 | 60 | 62 | 64 |
| CHEST | 84 | 90 | 96 | 102 | 108 |
| SLEEVE LENGTH | 67 | 68 | 69 | 70 | 71 |