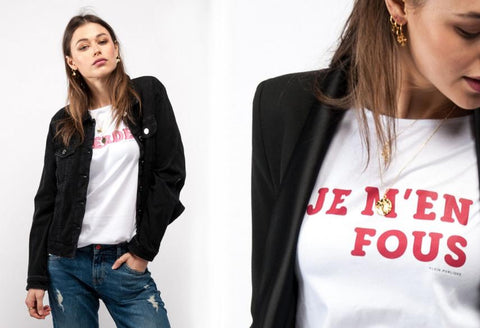 We schelden nog even door
WE SCHELDEN NOG EVEN DOOR
Toen we voor het eerst de 'Merde il pleut' paraplu brachten, wisten we van te voren niet dat het zo succesvol zou zijn. Publicaties in België, de LINDA en de VIVA mama maakten de paraplu zo populair dat we al een aantal keer hebben moeten nabestellen. De Franse taal blijkt een misleidend verzachtende uitwerking te hebben op pittige uitspraken.  En waarom zouden die dan niet ook op t-shirts zetten? Zo is het idee geboren om stijlvolle humor te brengen. En in de Franse taal klinkt zelfs vloeken chic!
' I DON'T CARE '
De mildste variant is JE M'EN FOUS. Het interesseert me niet. En daar hebben we allemaal wel eens last van :-) Ik hoorde deze tekst voor het eerst in de Parijse metro. Jaaaaren geleden, toen ik werkte in deze prachtige stad. Inmiddels ben ik er achter dat in de metro van Parijs alles kan gebeuren.
Openbare echtelijke ruzie's zijn meer regel dan uitzondering. En een koppel in de metro deed net alsof ze thuis waren. Hij was zich aan het verontschuldigen en zij riep alleen maar je m'en fous, je m'en fous, je m'en fous, je m'en fous. Ik kon wel raden wat het betekende. Maar hoe vaak en hard ze het ook bleef herhalen, in het frans blijft het toch erg chic klinken. Wat een passie!
Je m'en fous betekent vrij vertaald zoiets als -
• Het interesseert me niet
• Ik ben niet gek
• I don't care
Het is maar net met op welke toon je het uitspreekt. C'est la ton qui fait la musique ;-)

// T-shirt korte mouw | 35,- | Gemaakt in een zachte katoen-modal jersey | Mooie rode puff bedrukking.  
' MERDE '
Deze uitspraak ken je toch wel? MERDE! Gewoon ' Verdomme' of 'Shit'. Spreekt voor zich en is duidelijk, that's what we like. :-)
Om de tekst iets vriendelijker te maken hebben we de bedrukking in een mooie roze kleur op het T-shirt gezet. Combineer het met je vintage jeans, een paar toffe patta's en the summer is all yours.
// T-shirt ' MERDE' |  Korte mouw |35,- | Gemaakt in een zachte katoen-modal jersey | Mooie roze-puff bedrukking.
A Bientôt weer!
Liefs, Nicole