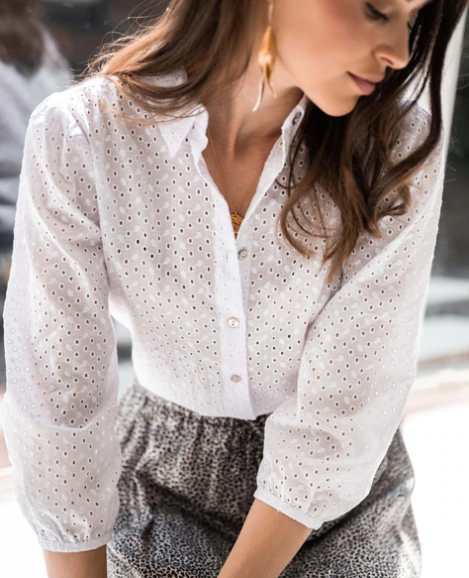 Broderie Anglaise - A fabric with history
SUMMER'S #1 FASHION DARLING
Have you spotted her yet, pretty blouse LA ROSA made of cotton broderie Anglaise? Have you - just like us - fallen for the charms of this beautiful embroidered fabric? To complete your summer crush, we would love to tell you all about the interesting background of this all-time favorite fabric.
BRODERIE ANGLAISE – WHAT IS IT?
Broderie Anglaise is a collective name for fabrics with a pattern of embroidered holes. It is a technique that can be applied to various fabrics, with lighter weight fabrics in particular being the most common. Such as the cotton poplin of our LA ROSA blouse, but also transparent cotton voile, silk (blends) and crepe viscose are often used. Do not confuse broderie Anglaise with lace: lace has no base material but is a coherent whole of threads in an open woven or knitted structure. Broderie Anglaise is a woven fabric – the holes and the embroidery around it are finishing touches.
Good to know right?

The holes used to be made by hand, later they were punched in by machine and nowadays a state of the art laser is involved. Continuing on the original technique :)
BRODERIE ANGLAISE – THE HISTORY BEHIND IT

In the 16th century, the embroidery technique first appeared in Eastern Europe, in the Czech Republic to be precise. The Balkans is known for its rich history in traditional handicraft techniques, going far beyond the (in our view) kitschy colorful folklore work. Just look at these 19th century Balkan Beauties (yes it's a black and white photo, smart ass :)
BRODERIE ANGLAISE – NAME, FAME & FASHION
As is the case with all things fashion, it is not always easy to explain why something suddenly becomes 'in fashion'. Out of nowhere, traditional handicrafts in 19th century Victorian England became wildly popular.
Eureka-moment 1: That's why we call it Broderie
Anglaise

!

Yep. But seriously it is, of course, a downright misleading term. In a fair world it would be called Balkan Broderie. Admittedly, that does sound a lot less poetic.
Eureka-moment 2: French arrogance has been around since forever

We love France, but oh boy… the name Broderie Anglaise once again bears witness to a fine example of French territorial instinct. Instead of accepting that the English were first to the trend, France has the last word. The French name broderie Anglaise is a fait accompli.
At first you saw Broderie Anglaise mainly on women's underwear and children's clothing. At the time, underwear was more than just a slip and a bra: the ladies wore full puff pants - the so-called 'bloomers' that were later worn as 'top pants' by progressive sufragettes. In the photo below you can see broderie Anglaise processed in the hem. Even boys wore these slips... gender fluidity is nothing new.
The special fabric is advancing further and further to the highest regions of fashion land. A dive into the archives yields beautiful photos of style icons, wrapped in beautiful broderie Anglaise.
In 1959 Brigitte Bardot married in a checked dress (the BB check, dûh) with details in broderie Anglaise. The dress became world famous, groom Jacques Charrier (who???) disappeared into obscurity. Beaten by a dress, shit happens. In later years, BB regularly rocks a sexy broderie Anglaise edge.
The legendary Twiggy - UK's first real supermodel - also wore her fair share of broderie Anglaise. Although we are talking about a completely different fashion scene here. Broderie Anglaise builds bridges.
It is no coincidence that we ended up back in England unnoticed: royal sisters in law/frenemies Kate and Meghan both also like broderie Anglaise – the differences in styling are striking to say the least.
You see: Broderie Anglaise has many faces, is timeless, can be styled in several ways and, thanks to its cooling holes, an indispensable summer fabric. Are you tempted to buy some yet, or are you not falling for the hole in the maket? :) We can't imagine, but besides broderie Anglaise we have many more beautiful new items waiting for you.
Allez hop to the shop!