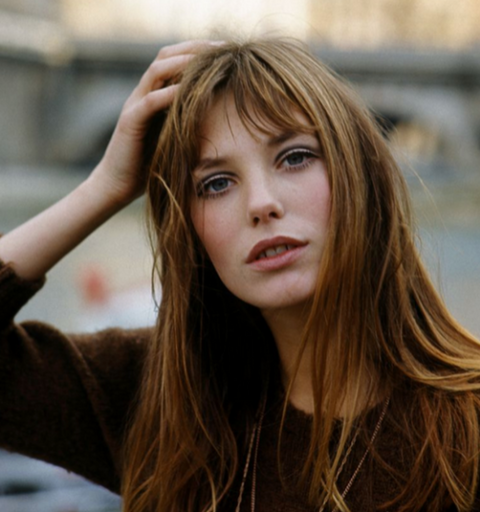 JANE BIRKIN - Style icon
JANE BIRKIN - The style icon

Anyone who has been with us for a while knows: We are big fans of the style icons of the times, and in particular of style icons from French film, music and pop culture.
And so we were quite shocked when on July 17 the Anglo-French Jane Birkin, one of the most celebrated style icons of the last century, passed away.
Now I hear you think...BIRKIN? That's the name of those expensive bags, right? Correct! Because this luxurious BIRKIN bag is named after the style icon. But to properly honor her: first things first. Because who is was she?
JE NE SAIS QUOI?
France is known as the cradle of style. Then and now, and most likely still in the distant future. But we leave the first 19 centuries for what they are and zap fast forward to the 20th, roughly around the fifties / sixties.
Around this period in time, with seemingly minimal effort, ladies like Brigitte Bardot, Catherine Deneuve, and Francoise Hardy create a style that just oozes sex appeal. These influencers avant la lettre combined apparently carelessly collected items into unique looks that inspired the whole world.
That famous 'relaxed & stylish' look, which looks effortless to throw together, is called the typical French 'je ne sais quoi' look. This look seems to live on forever.
JE NE SAIS QUOI!

Jane Birkin was born in London in 1946 and moved to Paris in the swinging sixties when she aspired to an international film career as a reasonably successful musical star.
She auditioned for the lead female role in the film Slogan, was accepted
and then fell head over heels for her co-star, 18 years her senior
French pop star Serge Gainsbourgh - a Parisian troubadour :)
Jane herself also sang well, so the two lovebirds recorded a single together that became a huge hit.

'Je t'aime… moi non plus' was the title of their erotic love song.
You might have heard it before: 🎶Je t'aime...Je t'aime...🎶.
Or so lisps Jane pantingly to her French lover.
Salient detail: The first version of the song was recorded with Brigitte Bardot, but afterwards she thought it was too risky to release. Jane díd have the guts.
Once released, some radio stations even refused to play the record, which is the best success formula for a world hit.
The rest is history…
MINI ROBE
Other than her successes in the singing world, the acting career is also running smoothly and she can be admired in over 40 films. Jane Birkin has become mega famous and all eyes are on her during this time.
Jane is smart and knows how to capitalize on fame by creating her own style. Ultra-short mini dresses are the favorites. Sometimes with a plunging neckline below the belly button.
A famous example is the transparent 'fishnet' mini dress she wears without a bra.

'I had no idea the paparazzi's flashlight would make the dress so see-through, otherwise I would have left my panties at home"

Well, either your a child of the sexual revolution or you're not...
LE PANIER EN OSIER
The observant reader/picture viewer has probably already spotted it in the photos: that other thing we know Jane from. Her le panier en osier (the wicker basket).
She bought her first wicker basket at a London market, and it became her
favorite accessory, dangling from her arm wherever she went, whether
she was shopping or walking the red carpet.

Husband Serge was completely done with the bag after a while, so much so that he "accidentally" drove over it on purpose with the car. Je m'excuse… moi non plus.
LE SAC BIRKIN

As a young mother – she gave birth to three daughters, including two future style icons, Charlotte Gainsbourg and Lou Doillon– she boarded a plane one day. There she expressed her frustration about bags that are too small, which are completely impractical for young mothers, to the man who happened to sit next to her.

She told him she loved the "Kelly bag" named after Grace Kelly, but that she wanted it to be a lot bigger, with extra storage compartments and a closure that opens more easily.

The empathetic neighbor turned out to be none other than Jean-Louis Dumas, the manager of Hermès at the time. Not long after, the world famous brand launched the Birkin Bag, exclusively named after Jane.
THE BIRKIN BAG is a good size larger than The Kelly Bag. It has a shorter closing flap that can also be worn open and storage compartments for baby bottles and other daily essentials.
It is the most expensive, best-selling and most famous worldwide bag ever, and has been for more than 35 years.

There are bag fetishists out there who own up to 40 of them! But as far as we know, Jane Birkin herself only had 1: "That's all I need."
When she received new Birkin Bags from Hermès, she auctioned them off and donated the proceeds to charities.
THE GREATER GOOD

Light-hearted style icon or not, as a person Jane knows very well how to use her fame for the the greater good.
When Hermès launches a crocodile leather version of The Birkin, she
threatens that she will no longer attach her name to the bag, provided
that Hermes closely scrutinizes the suppliers. Hermès evidently recognizes that risk and take her words seriously, which results in a shady crocodile farm in Texas being removed from the supplier list.

In later years, Jane devoted herself to humanitarian causes such as Amnesty International, the fight against AIDS and the legalization of abortion. She also traveled to war zones such as Rwanda and Sarajevo to create awareness and encourage and support the people there.
She remains chic: no photo can be found of the last two actions.
In 1996, at the invitation of Hedi Slimane - the then chief designer of Yves Saint Laurent - she shines one last time as the face of YSL's Le Smoking-campaign. In 1999 she appears radiant on the catwalk at – where else could it be – Hermès. After that, the publicity fun is over.
Ça suffit.
" My look is a cocktail. I'am not as nicely turned out as the french, but I don't care like the English."
JANE BIRKIN
Londen, 1946 – Paris, 2023