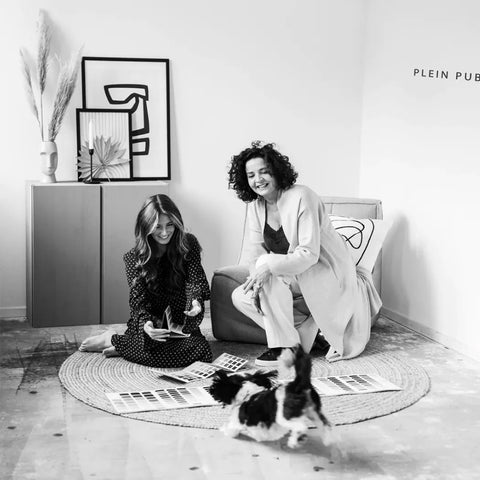 Interview | Nicole about the success of PLEIN PUBLIQUE
Interview: Nicole about the success of PLEIN PUBLIQUE✨
Curious about the success of PLEIN PUBLIQUE? Then this is the article for you! Maison365 did an interesting interview with Nicole, owner of PLEIN PUBLIQUE.
When did PLEIN PUBLIQUE start? Can you briefly explain the history and growth of PLEIN PUBLIQUE?
Funny that you ask, we have our hands full with the present and the future, but your question suddenly makes me realize that we already have quite a few years on the counter. We have been around since 2016!
Where does the name PLEIN PUBLIQUE come from and what does it mean?
The short version: I was out in Antwerp and was 'inspired' by the name of a pub (don't tell anyone). The deeper meaning: 'en plein publique' is a concept that appeals to the imagination, and means as much as 'in full public view', 'visible and audible to everyone'. In other words; inevitable and very present. C'est nous, The French name also immediately reflects our love for that typical 'je ne sais quois' effect. That elusive factor that we always incorporate in our collections, that touch of chic that French women seem to have patented. Merde, even swearing sounds chic in French :)
Could you maybe tell us a bit more about the products for the people that don't know about you yet?
At PLEIN PUBLIQUE, we love the so-called Slow fashion: fashion that never goes out of style. Think of the iconic Breton striped sweater and the classic shirt blouse, but also the perfect T-shirt, the knitted lounge pants, the frilly dress… Future-proof classics - which of course we give our own PLEIN PUBLIQUE twist - with which you can create a super comfortable, effortlessly functioning wardrobe.
What kind of woman do you want to appeal to with PLEIN PUBLIQUE? What does your customer look like?
In that respect we are not that target driven. It is not that we have a clearly framed woman in mind: all women are welcome! What we do notice is that we mainly attract women with the same mindset. Lovers of timeless classics, high quality, clothing that is made with love for women and with respect for the earth. And once they've found us, they'll stay loyal to us. Not bad for a brand that mainly operates online. We're doing something right, I think!
We know you use Merino wool a lot. How did you come up with the material Merino wool to use for your items?
Merino wool is the crème de la crème of the wool types! It keeps you warm in the winter and cool in the summer. It is extremely strong, antibacterial, easy to maintain (no need to wash!) and also extremely durable. It grows back on its own, is 100% biodegradable, recyclable, and besides all that, it is also very beautiful. It fits perfectly with our philosophy in every way: timelessness, beauty, respect for nature.
At PLEIN PUBLIQUE, how important do you think sustainability is for a fashion brand and what do you contribute to it?
When it comes to sustainability, fashion doesn't have the best reputation. And rightly so: the industry has a lot of pollution and waste. As I mentioned before, we firmly believe in Slow Fashion. Clothing that lasts, both in terms of timelessness and longevity. Of course, where possible, we opt for sustainable materials and production methods, but with our timeless items we mainly address the consumer's buying behavior. Helping them put together a well-functioning wardrobe of timeless items reduces the need for impulse purchases. Sure, fashion is 'fun', as long as you make the right choices there is nothing wrong with that.
What are the bestsellers? And is there even a personal favorite from the collection?
Blouse LA SAVANNE with black dots is doing great! That design really has it all: easy to combine shirt blouse, plant-based viscose, iconic polka dot design, timeless power duo black & off-white...Coincidentally (or not?) LA SAVANNE is also my personal favorite. But the very best of all is the LA FEMME sweater. This short sleeve sweater has been around for over three years and the collection is still a bestseller.
The collection consists of beautiful classics and timeless must-haves. Where does your inspiration for your collections come from? For the different models, as well as for the choice of colors and prints.
Inspiration comes from the most diverse places. I love photography and regularly come across beautiful vintage photos of style icons while browsing. Audrey Hepburn in a simple black turtleneck, Brigitte Bardot in a Breton stripe, Sophia Loren in a polka dot blouse… I recently came up with an orange accent for our popular L'ELISA sweater. I watched Squid Game the night before :). Of course we also keep a close eye on what's going on in fashion land, both in terms of color and modeling and in terms of new developments in the field of fabrics and prints. We travel a lot, visit trade fairs and often plan shopping rounds.
Do you have a nice styling tip for the readers?
Think outside the box and be creative with what you already have in your closet. Wear your V-neck T-shirt the other way around, with the V at the back. Or button up your fine knitted cardigan, wear it as a sweater and tuck it into the waistband of your skirt or pants. The more ways to style a garment, the more often you wear it. An additional advantage: the Cost Per Wear is only getting better as you go!