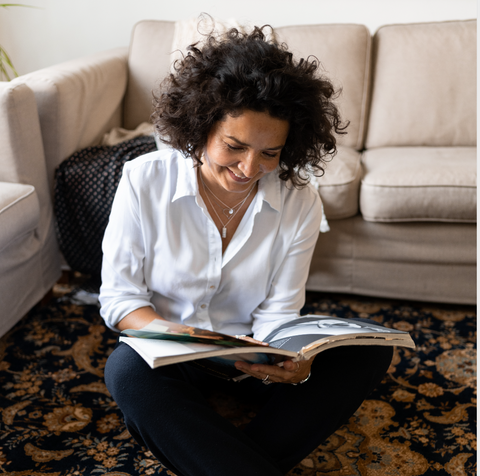 Nicole in interview with Fashion United
PLEIN PUBLIQUE - Truien met een Bretons 'streepje voor'
door Caitlyn Terra | dinsdag 02 april 2019 - translated from the original Dutch.

Being unique is important for a niche brand. Plein Publique, which was started in 2006 under the name Breizh by Nicole Hoefsmit, the Breton stripe is the main character. In the fourth episode of the renewed FashionUnited series 'My Niche': Plein Publique.

Let's start at the beginning: what's the story behind PLEIN PUBLIQUE, or at the time Breizh?
"It started with the Breton stripe: To be visible in an online market today and to be able to conquer a place, it is good to focus on a niche. I did that and the start of the company was very successful. I didn't have to explain in detail what the company did. Breton stripes were obvious enough."
"The love for stripes has been there since my childhood. The many holidays to Brittany have automatically made me a big fan."

Last year you changed the name from Breizh to Plein Publique to allow an expansion of your range. How has the stock changed?
"We will always have Breton stripes in our collection. After all, a Breton stripe is always in fashion. The name has been changed because many people stumbled on the name Breizh. Plein Publique is a lot easier to remember and already sounds familiar because people sometimes use 'en plein publique' in their language. In addition to Breton stripes, we have added many 'classics' such as the logo t-shirt, a panther print and sweaters."
Is the love for the niche of Breton sweaters still there?
"Certainly. We love stripes. Stripes will always be in our collection. Breton stripes are beautiful basics that often give your outfit a finishing touch."
How is PLEIN PUBLIQUE doing now, after this change?
"Very good, everyone thought Plein Publique was a better name, so we didn't suffer from the name change. In fact, we are growing fast, especially online we are increasingly visible and we have high conversions."
According to you, what's the best and the hardest thing about working with a niche?
"The fact that there are sometimes other styles in fashion. But it's not difficult. You frame and that makes it more exciting to be creative within that frame. It's a challenge and I like that."
Do you still see yourself as a niche brand??
"Yes, but more focused on beautiful classics that you must have in your closet. We are therefore always in fashion without really bringing fashion."
Do you have any tips for people who currently have a niche brand and want to expand their range?
"Don't throw away old "stripes" before you have new ones. So you can try something out, but keep an eye on your core business."
Caitlyn Terra for Fashion United
Read the original interview HERE