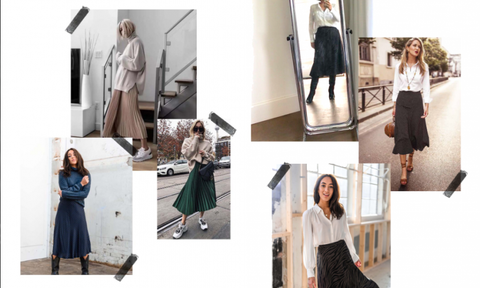 How to wear? How to wear the skirts trend
HOWTOWEAR

~ The 'over the knee' skirt ~

As you have already read in several of our blogs, we like to write about everything when it comes to fashion. But we often get the question... 'Great, a new trend! But... how should you wear it?'. For us it is often obvious how you wear a piece of clothing, but apparently not for many. So voila, here's a first blog about ' #howtowear'
We'll start with the new skirt, the over-the-knee skirt.
THE 'over the knee' SKIRT
You have probably already seen this skirt around. With us on the site, somewhere in the magazines, on social media or just in the streets. This skirt is back! You will see it a lot this spring and it will be a must-have in your wardrobe.

The nice thing about today's skirt is the length. It falls over the knee. In addition, the skirt is wide. Anyone can wear it. By the way, did you know that this model skirt hasn't really been in fashion for as long as I've been part of the fashion world? That has been about 25 years. So you can't say 'I still have one in my closet', because the moths will probably have gotten to it by now.
Anyway, back to that skirt. How do you actually wear it?
With a sweater

Let's start at the beginning. The trend of the new skirt naturally originated with the influencers, who wear it with large oversized sweaters or sweaters. Looks cool and cool of course...if you have a size mini and don't want to look feminine. But most of us don't have that size XS and then things don't go up so easily. For example, I have a cup D and transform a large square farmer's wife if I let my sweater hang casually over the skirt.
However, you can still wear the skirt with a sweater. Just tuck it a little at the front of your skirt. (also called the 'french tuck'.) This is how you create a waist, and therefore shape, in your outfit. If you now start rearing really hard and say that you can't do that with your belly. Relax and then tuck the sweater more to the side of your skirt. Believe me, it looks great and you look a bit more feminine. > Just try it in front of the mirror.
Office style
Or are there even more ways to style the skirt? Yes of course! Because when you go to work you can't arrive in a big sweater. So a white blouse is the best choice. Always good, always nice and always stylish.
Party time
But ehhh... and the holidays... What about those?
As I wrote earlier, the skirt can be worn in many ways. You can look super feminine for the holidays. With a nice spaghetti strap top and some jewelry you will quickly look festive and stylish. A pair of nice heels or boots underneath and you are ready to party lady.
Summer & winter!
Yes, you can wear the skirts perfectly in the winter, but also in the summer. And as you may know, we at PLEIN PUBLIQUE love beautiful items that you can wear on and on. Items that last longer than 1 or 2 seasons. And this skirt is one such item. Next spring, the skirt will go wild, because the white T-shirt is coming.
And there's nothing easier than wearing a nice white T-shirt on top of your new printed skirt. Do you already have it?
Sooo... we broke the ice. This was the first blog about how to wear the latest fashion. Did you like it? Hopefully, because we have more in the works. Stay tuned!

Love, Nicole