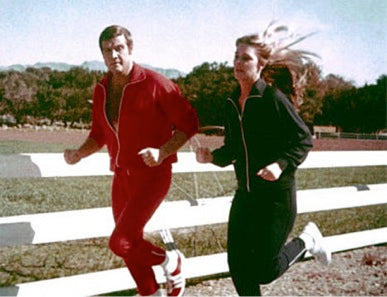 Sass for the ass trough the years
FANS OF COMFY PANTS

Just sit back for a while, because Remote from home has been the motto lately and it still takes some getting used to from time to time. But as you may know by now, at PLEIN PUBLIQUE we often look at the lesser things from a positive side. So when we work from home we can wrap our buttocks in something soft again to be able to cope with the wooden kitchen chair. Comfort!

And comfort is half the battle won. Time for a good pair of pants, but preferably a pair that you can wear outside without looking like you threw on a garbage bag, right? And you're not the only one who feels that way. We want some sass for the ass.
What used to be called casual wear has developed into a hype that you can show off. Want to know more about how that evolution went? Well, strap in and off we go!

CASUAL AND FREE

Aha-moment: casual clothes only got a right to exist when free time arose. Huh? No free time? No, in earlier times it was eat / sleep / work that filled the clock, and then actually in reverse order, but that doesn't sound as good. People worked to support themselves, and free time was spent eating and sleeping to build up strength for the next working day. For the common people every weekday was a working day, the Sunday rest day was a luxury that only the rich could afford.
Strangely enough, the earliest form of casual wear was a man's suit, consisting of trousers and a jacket: at the time seen as the pinnacle of casual because the normal wear of the well-to-do class was a three-piece dress suit with a long pawn coat. Free time was mainly spent on theater visits, strolling through the park and other light entertainment.
When sports became fashionable in the early 20th century, there was a need for clothing that offered a little more freedom of movement.
JERSEY IT IS!
Towards the end of the industrial revolution, the first batch of mass-produced tricot was made possible. And that took off!


Sportswear in tricot was the créme de la créme. The first ready-made mass production is in the name of sports brand Le Coq Sportif, launched around 1920 and became an immediate hit with outdoor athletes because the cotton jersey was nice and warm and provided a lot of freedom of movement.
FROM TRACKSUIT TO CAMPINGNORM
The first real tracksuit - trousers with a matching jacket - was intended for the athletics track. In the history of the Olympic Games you will find great photos that show the impact of the usually brightly colored suits - because the invention of synthetic yarns led to a true color explosion. One of the early adopters was martial arts actor and cult hero Bruce Lee, from whose iconic look Uma Thurma in Kill Bill was inspired decades later.
Its popularity rose steadily until the 'Free Saturday' was introduced in the 1960s, initially only for civil servants - later for almost everyone. The casual wear market literally exploded. Everyone joined the trend, from teenagers to the sedate middle class - the chilling dawn of the camping casual was a fact.
From the synthetic tracksuit we slowly moved on to the iconic gray-melange sweatpants that turned out to be equally democratic: young, old, white, black: everyone fell in love with the now good old sweatpants.


Speaking of which... We can't not show you the combination that Ronald Reagan thought he could pull off. Image marketing was still an unexplored area, so to say :)
And another little thing we also can't help but mention: Juicy Couture. You probably remember them, something like that is not easy to delete from your memory. Velvet in candy colors, bold bold letters on the bottom, and rhinestones. A lot of rhinestones. Britney S, Paris H, J-lo: they just couldn't get enough of it. Maybe that triggered Karl Lagerfeld to make this hilarious comment: "Sweatpants are a sign of defeat. You lost control of your life, so you bought some sweatpants." We can't start that debate anymore, but we agree to disagree…
THE APARTMENT PANTS
All in all it has taken quite a journey for the sweatpants to become what they are today. butt eh ... what exactly are they now?


Actually, Jennifer Anniston gave the right description in the series Friends. She called today's version 'The apartment pants'. Comfortable pants that have become an essential part of your interior. Lovely to wear indoors.

We could not have imagined that The Apartment pants would also become 'Outside the apartment pants'. But in the latest generation of longpants you can definitely show up with decency!
Whatever you call them: house pants, joggers, lounge pants or - our favorite after all - apartment pants: they belong to life as we know it. Maybe even more now than before Covid.


Finally, we let you enjoy the fine specimens that we have included in the collection from Plein Publique. Knitted merino wool beauties with a flattering straight leg: they have a great fit, are nice and warm and also provide extra style points. Upgrade them with a chic blouse and blazer, or combine them with a sweater with trendy puff sleeves. Self-care for the rest of the year? You're all set!



Love Nicole & Ilse