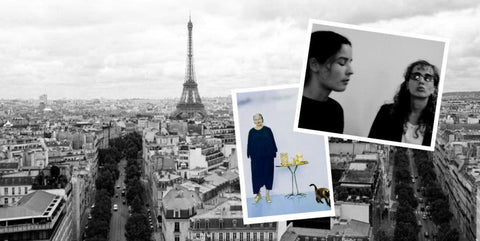 The story of how I got my first job in fashion city Paris.
FORTUNE FAVORS THE BOLD

Sometimes people ask me how I got into fashion, and I will often tell them what got me here in reverse. I have done a lot of different things in relation to fashion, but one story often comes bubbling to the surface. That was my first experience applying for jobs after graduating from art school. I put it on paper so that you can also enjoy my emotional rollercoaster in Paris. Because a younger, freshly-graduated me was a Big Girl off to Paris easy peasy....
EVERYONE IS WAITING FOR YOU...
I was 23 years old, just left school. Miss Big Fish (That was me) thought she would go to work in Paris, easy peasy. After all, you graduated ...
Anything was possible.
Everyone is waiting for you.
The world is at your feet.
Get in the car and everything will be fine.
Or... something like that.


After I received my diploma at the art academy, I wanted and would go to work in Paris. The Netherlands was somewhere I could come back to at any time, right? My dear mother said, "Wouldn't you try the Netherlands first?" But no, stubborn as I "was", I left for Paris with a friend. In my white Fiat 500 on the highway to Antwerp, Lille and so on to Paris.

Fortunately, I was able to stay with acquaintances from the art academy, because I didn't have much money right after graduating. That place to sleep was really the only thing I had arranged, I figured I would figure out the rest on the spot.
BIENVENUE A PARIS, NOT
When I arrived in Paris, I started looking. Which companies would I actually like to work for? After all, why would you plan that in advance ...ahem.




But to be honest, there was only one company where I really wanted to work. That was the TREND UNION.



This company specializes in forecasting the future. So they predict what we will wear in two to three years or how we will live. Or the question, will we still be driving cars in 10 years. And yes, large companies pay a lot of money for that. This isn't about thin air forecasts, but based on experience, logical developments. Ok, let's see .. a simple example ... the time of fast-fashion is a bit on the wane, so we are now going to appreciate the garment itself more. Logical consequence, right?

There are several such companies in the world, but I wanted to work at TREND UNION. A most beautiful forecasting company in Paris, led by a Dutch lady; Lidewij Edelkoort.




The chance that I would find a job there was of course almost zero (But I didn't think so at the time). Fortunately, there were more forecasting studios in Paris and I was able to focus on writing application letters.



Anyway, I neatly collected all addresses and wrote letters (e-mail did not exist yet). Posted them and waited. But... how long are you supposed to wait? Patience is not my forte, so after two days I decided to call.




Pffff… I don't know if it was my smooth Breton accent ;-), but the Parisians were not very friendly on the phone. Dear oh dear.




Bienvenue a Paris, not!

WHAT NOW?
So calling didn't work
And now?
Back home?
I could hardly go back to the Netherlands and tell my mother that Paris hadn't worked out. (that was my own pride getting in the way)
So ... # $% @ $… it, I'm not going to wait until I get a reply if it is going to be like this.
I'LL JUST DROP BY.
YOU'RE FROM THE NETHERLANDS?
The next morning I went out. I had a no, but I could get a yes if I try. I Made a list and just went. The TREND UNION was of course number 1. I Looked up address and hopped on the metro.

I arrived at a kind of small fashionable warehouse, in the middle of Paris. Later it turned out that the outside of the building was painted a different color every year. From green to pink and even to gold. Very cool!

I entered without an appointment.
There was no reception upon entry.
You entered right into some kind of trendy corporate loft.
Well, there I was.


Finally someone approached me and asked what I was doing. I explained in my best French that I had come to show my work.

'You're from the Netherlands?' I suddenly heard someone shouting in Dutch from the other side of the shed. It was Lidewij Edelkoort, the Dutch owner of the company.
'Yes.' I stammered.
'Why are you here?' She didn't sound very friendly...
'To show my work' I continued.
Note: this conversation was held between the two far opposites of the room.
'Then you have to send us a letter!' She started to sound even less friendly. #OMG
'Uhm, yes, I did, but there was no reply.'

I was quickly losing my nerve and I slowly got the impression that this might not have been such a good idea after all.

And it got quiet…

Those few seconds seemed to take ages.
"Okay, I'll get you someone" Lidewij finally called out.
Huh, I could stay?
I stood there, still frozen, but did she say she was going to get me someone?

I waited patiently.
"You can sit down!" She called from the other side of the room.
Phew… can you imagine how uncomfortable I felt :-(


I sat down and waited. Finally a French woman came up to me and introduced herself. She did not understand that she had to look at my work and that I had better make an appointment.
!Believe me, this was the last straw, the moment I was really done with it and wanted to leave. Gosh, what a drama this was becoming.

But a miracle happened. The tide turned 180 degrees.
She continued: "You have put so much time into your work, and I want to take the time for it later, though I actually don't have any right now." This Frenchwoman was very friendly, she just wanted to make time for me.


I got a glass of water and together we looked at my portfolio. After about 4 pages she was apparently impressed because someone else was called in.
They took a look.
Then someone else was brought in.
And then someone else ...
and someone else ...
At some point, over 10 people were looking through my portofolio. Wow, I felt myself getting a little confident again.
TOUCH DOWN
Finally someone asked me if I wanted to do an internship. I answered that I wanted a job, no more internships. The sweet Frenchwoman told me at the end of the conversation that she was going to check if they had the budget. She asked me if she could call me that night?
Alleeez, ofcourse!

I went outside and stood around the corner taking breather for a few minutes. Because what an enormous emotional rollercoaster this was. That night they did indeed call me. There was a budget and I was allowed to start the next day at the TREND UNION. Unbelievable isn't it? I was so happy! My first job in the creative profession, in Paris, at the company where I really wanted to work. YEAHHH!
The next day I didn't call my mother with the news until until the coffee break. Of course she was very happy and proud. I really wanted to actually get to work before I told the news to anyone.


And during the joint lunch, Lidewij saw me sitting at the end of the table.
"You were here yesterday, right?"
"Yes" I said, with dazzling smile.


I ended up staying for a few months. The application, working and living in Paris were very nice and great learning experiences.
But what I really discovered about myself during that time, is that I am extremely determined and ready to push trough if I really want something. I sometimes say to my kids "Fortune favors the bold(and I mean bold in a positive sense). Sometimes you just have to persevere, step just outside of your comfort zone, and out of the box.


Love, Nicole