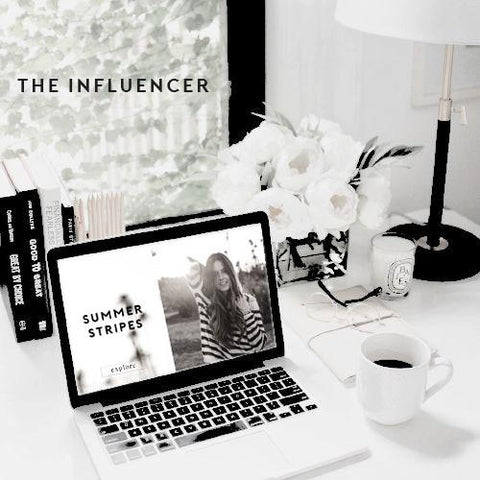 The how and why of the influencer
INFLUENZA?
No no, we are not talking about the summer flu, INFLUENZA, but about the influencer phenomenon. The "influenza" pun seemed appropriate because influencers are spreading across the planet with a rate that the average epidemic only could dream of. In many cases it is a self-imposed title that has also aroused the necessary resistance. For example, we came across the following quote: "I will shoot the next person who has filled in 'influencer' as a profession on his or her LinkedIn page". Quoted from a professional marketing bigshot with an off-day (a mood influenza, or so to speak). So much commotion requires an investigation, and we, of course, don't mind to take that role upon ourselves at all.
WHAT DOES THE DICTIONARY SAY

The influencer. It's a trendy word, but let's break it down for a moment to the pure meaning in English. In other words, what does the dictionary say. It defines as follows; "Influencer: someone who, eg. via social media, exerts influence on a certain target group". Clearly. We tried to find out in which year the Dictionary added the word to the books, but Google did not cooperate... Alright then, keep your secrets. We will successfully analyze the how-and-why of the influencer for you ourselves.
GOING VIRAL
It all started with the first batch of bloggers. (A blogger is someone who regularly, often personal, posts on their website. The word is shortened from weblog to blog.) These often outgoing fashionistas shared their love for fashion and their own unfiltered interpretation via the web.
That of course started off rather clumsy;
language zealots got extremely annoyed by the use of language and the misspellings
lovers of expensive glossy's desperately tried to forget the highly unprofessional pictures
And the fact that, the now most popular weblog system, WordPress is a piece of cake to figure out for even the biggest computer literate, apparently wasn't that much of a given at the time.
But; over time, things improved, and bloggers provided a refreshingly original counterbalance to the established press, which, with professional arrogance, didn't really see that competition as a threat. Things really took off when Dolce & Gabbana invited a select group of bloggers to their 2010 summer show (see photo below) and pontifically placed these bloggers with Anna Wintour's inviting aura on the front row.
And that...
Went.
Viral.

The fashion press wasn't impressed, and roared that the open appreciation for uneducated bloggers was an insult to serious journalism. Bunch of killjoys.
THE HALL OF FAME

But who were those bloggers from the very beginning? For those who don't know them; Let's give you a quick rundown in a small hall of fame.
Tavi Gevinson - aka Style Rookie
. Started when she was eleven, nowadays she would be called a kidfluencer. (I kid you not, feel free to look that up). She had a rather unconventional fashion taste to say the least, especially for being as young as she was, but she was dead serious about everything.
Susie Lau - aka Style Bubble. London beauty with Asian roots; an original mix of girly girly color and kick-ass street credibility. And - beware - the first to throw the "camera in hand and standing in front of the mirror" concept onto the web. Selfie Royalty !!!
BryanBoy. Manila street style with a crazy edge. Originally a serious web developer, with a flamboyant style of his own. Not only his fashion taste, but his entire personal lifestyle was the starting point for his blog, which he started - a salient contrast - from his parental home.
Man Repeller. Founded by Leandra Medine, and a bit of an odd one out. Where other bloggers focused on fashion and lifestyle, Man Repeller considered humor at least as important. Its own slogan "come for the fashion, stay for the jokes" hits the nail on the head. Starting point: fashion items that women love, and make men run the other way. Examples: the overalls, the harem pants, the wedge heel. (fill in the rest with your man)
The Sartorialist. Scott Schuman, an ex-NY representative, photographs people on the street and posts his photos in a blog. He chose his "models" with such a sense of originality and style that his work was picked up by designers as a go-to source of inspiration.
All good and well, an influencer? The "market" began to realize that the game was beginning to change. Magazines and TV commercials were no longer everything, the interest of the potential consumer shifted to the slippery slope of social media.
A year after that certain D&G show, Instagram was launched, by definition a blog type that works with images instead of text. And then the influencers really took off. Random teens with a smartphone and an attitude grabbed the claim to fame with both hands and started posting wildly. More structured types applied a genuine insta strategy and looked for fields in which to specialize. We write about fashion here, but as you know the list of possibilities goes on and on; beauty, interior, architecture, lifestyles ranging from outdoor living to healthy cooking, even an account dedicated to "things that resemble Hitler" has the right to exist. But the accounts that show a distinct taste image have the greatest appeal for commerce. Long story short; many influencers are bloggers, but not all bloggers are influencers and vice versa.
THE INFLUENCER AS MARKETING INSTRUMENT
Commercial brands began to approach the most popular bloggers and Instagrammers with the intention of joining forces. Free products flocked to the side of the bloggers / influencers in the hope of positive (and therefore sales-promoting) reviews. And if freebies weren't incentive enough, hefty sums of money were. A new way in the marketing world was born.
FROM MAIN ISSUE TO SIDE ISSUE TO MAIN ISSUE AGAIN
Celebrities are also a rewarding resource for lucrative marketing practices. Celebrities are - what a surprise - also just people, and moreover, a brand in person. Almost the entire A-list has been enthusiastically using Instagram from the very beginning to put themselves on the map/in the spotlight. Brands have always liked to link their products to celebrities, long before social media even existed. Humphrey Bogart was promoting chocolates, and Elizabeth Taylor did that - as early as 1949! - for Max factor lipstick, Woody Allen for Smirnoff, and so on. Celebrities in the role of social influencer are therefore not a new phenomenon, but the scale on which and the sums of money involved are. Some of today's celebs make more money as an (Instagram) influencer than from the career that underpins that insta popularity; the side issue turned into the main thing.
Of course there are also influencers who are not purely fixated on profit. They do their thing because they believe in it, and radiate it in such a way that they positively influence and inspire others. And of course influencers who have turned their hobby into their profession are not reprehensible gold-diggers. We all have to make a living. If you do that with something that you are good at, have fun at and are also financially rewarded for, then you are very blessed.
WE ARE ALL INFLUENCERS
Finally, we get to go back to the definition of the dictionary; "Someone who, eg via social media, exerts influence on a certain target group" with a slight comment. The dictionary tries to involve social media, but that is too short-sighted in our opinion. Suppose that social media did not exist, (suppose, of course. Stretch your imagination) even then you cannot escape the fact that some people influence others - consciously or unconsciously and positively or negatively.
So yes, even if you are not the center of attention, like you and us. We are all inspired by what someone else is wearing - or showing off. The new dress from the neighbor, your colleague who combines her chunky sneakers with a girly princess skirt, that woman in that interview who found a hole in the market and built a thriving business around it: the examples are inexhaustible. In a nutshell; we are all influencers. Whether you put it on LinkedIn is up to you;)



Until next time!

Nicole & Ilse
In the Netherlands we also know influencers such as Anna Nooshin, Lizzy van der Ligt and the like. And of course there are countless influencers worldwide. One of the nicest (we think) is Celeste Barber. An Australian actress who likes to emulate model photos. Very funny! Not very fashionable, but very comical nonetheless.