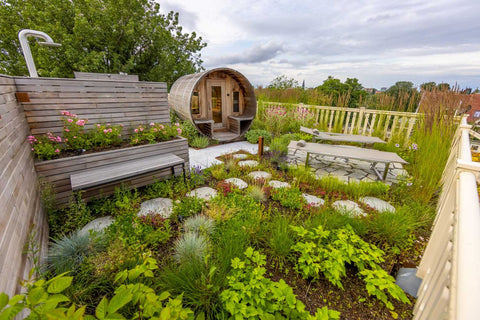 1% pledge | Our first donation is up on the roof
THE GREEN CEILING

No way you missed this: at PLEIN PUBLIQUE we have been setting aside 1% of turnover for some time now. Yup, we're going to give that amount back to nature. Because we all know it: Mother Earth is having a hard time and urgently needs helping hands. No sooner said than done.

We started saving in April 2022, in December we promised to announce where our saved money goes. That took a little longer, we needed some extra time to dot the i's and cross the t's. But now it's finally here, we made our first donation. The pennies saved with your help have found a home. Literally and figuratively something to go crazy from. We will contribute to the construction of green roofs! Why?

We'll explain.
Green roofs?
A green roof is a roof with a green color. Green roofs are roofs that are planted with vegetation. This creates a small city garden on a roof, which provides a number of beautiful & sustainable benefits;

The roof absorbs rainwater. Something fun about those rain showers for once.

The plants provide cleaner air. Breath in…

It lowers ambient temperature. Sustainable air conditioning, anyone?

Reduces ambient noise, both outside and inside. The downside: enjoying a juicy neighborly quarrel is no longer an option…

Extends the life of the roof. Nice bonus.

Creates value appreciation of the property. Always good.

Increases biodiversity. Before you know it you have become a bird watcher.
Creates fire-resistant layer. Da roof, da roof, da roof is… uhhhh?

In short, green roofs are not only beautiful to look at, they are also very environmentally friendly;
Sounds great right? After an intensive amount of deliberation, we ended up with Servicepunt Sustainable Roofs, a foundation with a mission: to transform the roofs of the municipality of Utrecht into a green oasis. Though translated for you, we'll let them speak for themselves.
"The Sustainable Roofs Service Point sees opportunities to create new nature areas in the middle of the cities and villages of the province of Utrecht. On the largest undeveloped area that we know in the Netherlands: the roofs! In the province of Utrecht there is approximately 56 km2 of roof, a large part of which is flat roof. So plenty of opportunities! We encourage this through our own Sustainable Roofs Service Point.
We can use extra financing, for example, to be able to offer a free quickscan to residents' initiatives (with at least 10 neighbors together or a neighborhood roof of at least 250 m2). We were able to offer that free quickscan last year and that was really a great success."



With this pitch, the green heroes hit us right in the heart. And in the wallet. We found our cause!
How does it work in practice? Our (correction: your!) donation is used to continue the free quickscan. Each quick scan costs 500 euros, the outcome is an accurate calculation of the costs and - also important - the weight that the roof can handle. In addition, there will be approximately 5 hours of extra advice and guidance. Incidentally, the Sustainable Roofs Service Desk asks each applicant to sign a document stating that if they do not follow up on the sustainable roof after the quickscan, they must pay back the costs of the quick scan so that they can make someone else happy. Throwing money over the bar: they don't do that - and neither do we : ) Every donated euro is spent smartly and honestly.
So, you're all up to date. Green is the new black. The roof is the new erogenous zone. Sounds flat? It should be, because such a hip urban rooftop garden will naturally not work for the birds & bees on a sloping roof.
P.S.: if you're smart - and live in the municipality of Utrecht - you can call up your neighbors and request a free quickscan for a green roof yourself. Two birds with one stone :)
Love, Nic & team PP
Ohyeah, we'll be on the lookout for more beautiful and sustainable projects.

More info: