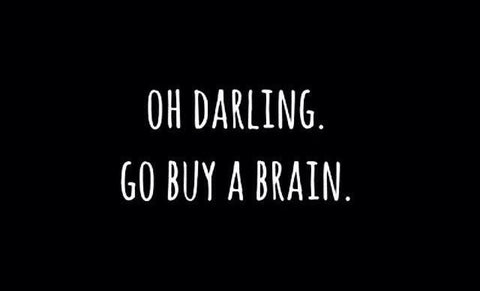 Oh darling, go buy a brain
Blog post by Nicole Hoefsmit
Really, honestly. I've been told not to do it more than once, but I ignored it all and did it anyway. And then.. you have to deal with the consequences. And that hurt, ouch! I'll tell you about what happened in my new blog: 'Oh darling, go buy a brain'
WHAT HAPPENED?
So last week I sent out the "Holiday Promotion" newsletter. Yes, I was already on vacation, but it is scheduled so that it is sent automatically.
Only I had forgotten that my website builders also went live that same morning with the new check-out of the site. (An update so that you go through the check-out faster and 'ease of delivery' works properly.)
And that went completely wrong. After the update, no one was able to complete an order. Waahhh!
BUT HOW?
How is that possible? It goes like this; As a business babe (;-)) you can quickly see how a promotion is going. I always want to know if people like what we send them and if they visit our site. So I secretly, yes also during my vacation, log in to check up on that.
Mailchimp did well, newsletter sent on time. Yeah!
Google analytics also showed that there were 28 people in the check-out. Yeah again. And that within an hour after sending the newsletter. Pretty cool. People liked the action.
But then I looked at the orders… 0. Zero? Huh? Zero? That isn't possible. How is that possible?
STRESS.
Stress. The first thing you do is place an order yourself. And then suddenly I saw the update. Oh, I had forgotten about that. Anyway, ordering went fine… ..until I clicked the pay button… .waaaaahhhhhh..noooooo. You couldn't place the order. I was asked to pick a shipping method. But had already done that. I tried everything, but unfortunately nothing worked.
The day was suddenly a lot less sunny. And that's putting it mildly. Thunderclouds. And all my own fault. I just should have paid more attention. You should NEVER update the website at the same time as a promotion. (or on weekends, because then you can't reach builders.) It has about the same effect as installing a new cash register system during Black Friday in any busy shop. Free troubles. Yes, of course the update was tested on the test site. But on the real site, live, everything can still go wrong. ... ... Big airhead that I am.
WHY?
Why am I writing this blog and why am I sharing my mistake? Basically to show you that it really doesn't all go smoothly. It all looks slick from the front, but setting up a brand isn't as smooth as it sometimes seems. Often everything goes well, but sometimes it isn't all sunshine and rainbows. :-) In the end it is an expensive learning moment and you have to just restart and continue. Also known as flexibility haha.
Anyway, are you the person who wanted to place an order? And got frustrated by our site? We understand. And apologize. But the issue has been resolved. The old check-out is back on. And the new one… might take a little longer.
Love, Nicole