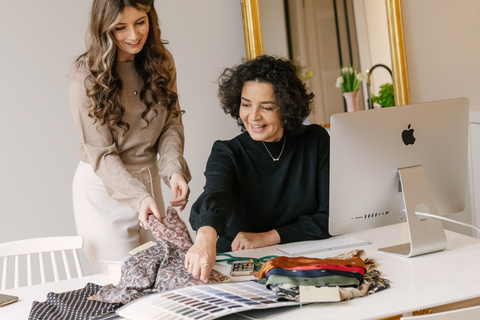 'I've learned that not everything has to be perfect' says Nicole in QEY
"I've learned that not everything has to be perfect"
Qey: Why did you choose Breton stripes to start off?
"I wanted to create a brand that I would sell directly to consumers, not just retailers and agents anymore. That's why I chose online. And when you start online, it is very important to choose a niche. You just have to be very clear about what you are doing, otherwise nobody will find you online. This is very important for your findability in Google. Because I chose only Breton stripes, the brand was immediately picked up by the press. That was a great start."
Qey: You now also sell other items of clothing with PLEIN PUBLIQUE. Why did you choose to expand the collection?
"Of course people don't just wear stripes. At one point we had added a dark blue sweater with one white stripe at the bottom to the collection. It sold so well that I gradually started making other items, especially with merino wool. We now mainly do the classics, but with new twists. A nice white blouse, a good T-shirt, those kinds of items. And the striped shirts still sell very well. Some items have been in the collection for four years. If it's good, it's good. For these reasons, we hardly do any sales. "
Qey: After Anna Scott, you've stayed in fashion. The same sector, but you now run a completely different kind of company. At Anna Scott you mainly worked with retailers, now you sell online and directly to consumers. How did you familiarize yourself with the online world?

"I knew nothing about online! Yes, how did I handle that? Just do it. I've emailed and called people—other entrepreneurs I didn't necessarily know—and asked if we could talk. I thought that was quite exciting to do, but I decided not to make it bigger in my head than it was. Some don't respond and others are very nice and tell you everything."
Qey: What is the most important career lesson you have learned in all your working years?

"I used to think I wasn't an entrepreneur. I always looked at others, how they handled it. I could really look up to people of 'oh, they're doing well and they're doing great'. I was sometimes insecure about that, because I could never do it that way. But there are multiple roads that lead to Rome, and there are multiple types of entrepreneurs. Ultimately, doing business is 'just doing it'. And everyone does it in their own way. Of course I also made mistakes, but I managed.
Another lesson is that it doesn't have to be perfect. A lot of women think – and that's really a woman's thing – that we all have to do it perfectly. But it doesn't have to be perfect. Men are much more of 'we go and we'll see'. And women want everything to be right first. The logo, the website, the garments, the buttons, everything, everything has to be right. And eventually, along the way, you notice that everything doesn't have to be right.
When I started the brand it was called Breizh. I thought about it for a long time and had a website built. Everything had to be perfect. Finally launched. It went really well, but after 1.5 years I changed the name because the name didn't stick. While in the beginning I was really so convinced of that name. And so you see, you can still think everything through, but you can and are allowed to change things along the way."
Qey: How do you work now at PLEIN PUBLIQUE?

"There are six of us, they are all freelancers that I hire. I really believe in the power of hiring freelancers. Moreover, it is easy to work hybrid with freelancers. We rarely sit together in the office. When I wrote the business plan 5.5 years ago, I already stated in it that I want to be able to work anywhere and anytime. I notice that I am very productive in the morning and that I finish outstanding tasks. And then do other things in the afternoon. But I also often work evenings and weekends. I like it too, so it's not like it's a must. I notice that the team also finds this a nice way of working. The younger generation should not think about sitting in the office all the time."
Qey: What are your ambitions?

"We want to grow even further with PLEIN PUBLIQUE, first in the Netherlands and Belgium and then in Germany. I especially like to see how happy consumers are with the clothing and the service."

This original interview is on be-qey.com.