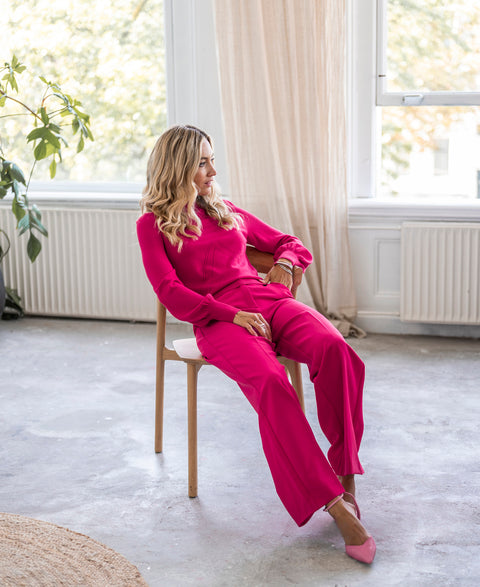 Blog | Put on your sunglasses - bright colors are fashionable
MOOD BOOSTER
BRIGHT COLORS

Blog Nicole & Ilse
There is nothing as impulsive as mankind and fashion. One moment we can't stop talking about our ton sur ton outfits, and with the slightest change of the economy its suddenly bright colors that are totally it. So be it. But that doesn't stop us from combining the two...
BREAK THE RULES
No one has a style that is so monochrome that they, day after day, can go out completely adhering themselves to the same principles. Rules are there to be broken. C'est le ton qui fait la musique. Did you catch on, or do we need to mention more cliché's? To succumb to a routine other than your usual is – hold on – is human. It's allowed. And if we are to believe the international catwalks, we can't escape it. Color is back, baby!
COLOR & ZEITGEIST
It's messy on all fronts. We don't need to explain.
Did you know that economic insecurity and social divisions have influenced our tastes for ages?
Did you know that the first wave of feminists used red lipstick as a symbol of discontent in a world where men ruled? This example of reverse psychology worked literally and proverbially like a red rag to a bull. Even in the crisis years, red lipstick was selling like hotcakes. The brighter the better. Not only was it a relatively cheap way to look good despite everything, the color also worked as a mood booster.
Nowadays, color is mostly taste-related, just like what you eat, the music you love, or the smell of your shampoo. Everything is there, you decide what suits you or what you feel like. Chances are, that's color right now.
COLOR & A TIMELESS WARDROBE

As fighters for sustainability and timelessness, you will mainly find future classics with us – designed to last, as easy and versatile as possible to combine, in colors that will withstand the test of time. All that without being boring. We know, we think it's pretty cool ourselves.
In addition, we help you perfect your existing wardrobe, we really don't want you to pop everything on a marketplace and only shop at PLEIN PUBLIQUE from now on. Pas Du Tout. Smart purchases that match what you already have in your closet will help you much more. Extend and perfect, instead of starting over.
But yes, nothing human is alien to us. We have also been infected by the violence of colors on the catwalks. And we just give in. In moderation, that is :-).
Because if you pay attention to what you do, bright colors really don't mess up your timeless wardrobe.
COLOURBLOCKING – PULLING OUT ALL THE STOPS

Colourblocking
The colorblocking trend is back – and how! With colorblocking you don't limit yourself to 1 color, but you use several strongly contrasting colors in one and the same outfit. You can make your outfit as colorful as you want. Red pants, green blouse, purple blazer, yellow bag. Bam. But a black outfit with a single bright green part also falls under colorblocking. The rule is that all elements are uni-coloured. With a print, no matter how small & fine or big & bold it is, you mess up the powerful statement. Small nuance: colorblocking as a design in itself also exists. Just think of a sweater with a knitted division, then the color blocking is in the garment itself, instead of in the outfit.
To accentuate

Not quite happy with the shape of your body? Or just super happy with your curves? Bright colors are useful for both accentuating and obscuring. Example: black is slimming, but a full black look can appear static and uniform. With a bright red belt at the waist you break that, and you literally and figuratively make your cinched-in waist the center of attention. Do you have long legs and a relatively short torso? With trousers in a neutral base shade and a bright top, you shift the focus and restore balance.
Clashing colors are allowed

Forget your mother - Clashing is allowed! Red with pink. Yellow with camel. Blue with purple. If you used to only combine colors from the same families and equal 'warmth', nowadays clothing can clash and burn. Within that style code, it is still smart to hold back a bit. Yellow with camel and dark brown: do. Yellow with camel and poison green: only for the brave.
BRIGHT COLORS X PLEIN PUBLIQUE
We already mentioned it: we too have succumbed to the bright colors, and succesfully so... The Bright green pants LA MARIE was out of stock within minutes, closely followed by Bright green striped sweater LA ZOE. Cardigan LA LEWIS in coral red? Idem dito.It does help that we pick colors that are relatively timeless. Fair green, feminine pink, all just a tadbit brighter than usual. And they combine beautifully with more basic colors like dark blue, sand and black. We know what to do - and we love doing it. For the fun of fashion.