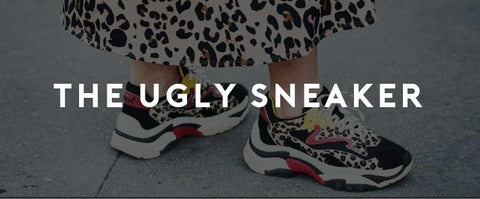 The ugly sneaker trend
SEEN THEM WALKING DOWN THE STREETS YET? THE UGLY SNEAKER!
Nothing is as capricious as fashion, and fashion is really having an ugly moment right now. Have you also noticed that the ugly sneaker trend has entered the current fashion image? And with our approval! How could that have happened?!
THERE IS ALWAYS ROOM FOR DEBATE
Fashion and personal style are all about taste. And there is no arguing about taste, is what they say. We disagree! Ideals of beauty - including clothing and other non-innate external style elements for convenience - historically show the behavior of a chameleon with a serious identity problem. Need examples?

We have seen the voluptuous 17th century Rubens woman versus the skinny Twiggy of 1960 versus the KA (Kardashian Ass J) of today. To stay in style with the subject; twisting and twerking ideals.

Another example; the beard. Facial hair, according to Darwin, is a sign of masculinity; it attracts women and thus helps the reproduction of mankind. The ancient Egyptians saw it as an ode to divinity, centuries later it was seen as a sign of poverty and 'being unhealthy', around 1920 it was all about smooth & fresh, but in the seventies the beard came back with full force (including the slick porn mustache) and nowadays. . . yes. Every self-respecting guy has one again.

You can see it for yourself; taste is clearly subject to the spirit of the times. And fashion too; Recently, several 'ugly' items have been declared high fashion.
The bath slippers; they are acceptable without sports socks, but with? We'll skip on that one thank you very much.
The cycling shorts; we do not get it, nor do we want to.
Socks in your pumps; socks are not very appetizing in your bath slippers, so not in your pumps either.
And now there is the ugly sneaker.
FROM RUNNING TO RUNWAY
How the sneaker could evolve from a sports attribute to a fashion item is a story that we will elaborate on another time. For now we will keep it at just a short chat - with picture - to illustrate the sneaker's right to exist in fashion history.
The first shoe that was purely for sports was made at the request of King Henry VIII around 1500. The obese king suffered from his feet when he tried to get his physique back to regal condition with tennis. He asked his servant for "
syxe paire of shooys with feltys, to pleye in at tennis
" or six pairs of felt-soled shoes for a game of tennis. Voilà; the first real sports shoe. For the elite only, ofcourse.

Jump in time; In 1839 the rubber sole was invented by Charles Goodyear (yep, the one known for the car tires). The first rubber-soled athletic shoe that was affordable to the general public was the "Plimsol". Still not a masterpiece of wearing comfort, but "In the land of the blind, theone-eyed man is king" so it was immediately adopted by America's finest.
After that it went fast; technology took off, more pioneering brands entered the market and soon we had Keds, Puma, Adidas and Converse. The latter became fashionable in the rock scene and an (all)star was born.
IS IT BECAUSE I'M UGLY?
The short D-tour ends at the reason for writing this article; the ugly sneaker trend. It all started with the dad sneaker. Dad sneaker ??? Oh yeah, THAT sneaker. That ungainly, beige, ergonomic footbed; you know them. And otherwise your father would. Well, okay then.
As it goes with almost any trend; you get used to it. It was suddenly completely street-credible to wear the dad sneaker under your jeans or suit. Orthopedic Chic. The trend existed, we invent the term on the spot. Then - as with most street style trends - the chic fashion houses took to it. Fashion house Balenciaga kicked off in 2017 with the Triple S. Three times Stupid J. Chunky, with a chunky sole that the Spice Girls would kill for, bulging heel, decorated with colored rubber molds. As if they had dragged a glued-in catamaran through the Lego.
The rest is history. In no time they were everywhere! Models, A-list celebrities, influencers; they flew towards the trend like moths to a flame. And you know what? We suddenly saw its charm too. There is something about it. Because yes, they are absurd. Hilarious. Crazy. But isn't that what fashion is all about? Expressiveness, fun, softening the sharp edges of serious haute couture with a wink; nothing wrong with that at all. And if you see how bloggers and influencers deal with it; the crux is in the right combination. Wear them with a mini skirt and all of a sudden you're high-brow. That (once hip and cool but now really retired) Ibiza skirt is suddenly turned from a mainstream province cliché to completely bon ton.
Of course there are now also slightly less fierce models available. That's how FILA - Yes, the brand from the 80s is back with a vengeance - with the Disruptor and Nike came up with a new Air Max, the 95. And yes, they are quite accessible. See for yourself.
So there you have it. Beauty is in the eye of the beholder. So indulge yourself with the ugly sneaker; wear it low-key with your favorite jeans, go all the way with a princess dress and an abundance of colorful accessories, or give an innovative twist to your classic Breton stripe sweater (free but not entirely unbiased style advice from Plein Publique ...) there is no accounting for taste!
To conclude this article, this is a statement from Vogue;
BAD TASTE IS THE BEST THING TO HAPPEN TO FASHION
Oh... now what about that?

Love, Ilse & Nicole
***
***
Blogger duo Nicole and Ilse. They became colleagues and sisters in crime in their previous jobs and still work together a lot; they share an unbridled love for / knowledge of fashion & lifestyle. Opposites as they are - dark versus blonde, classic beauty versus rock chick. Momboss Nicole, mother of three kids versus freelancer copywriter Ilse where even a pet is not even negotiable. It is that duality (they are not a duo but a dua :) with which they bring out the best in each other. Nicole is the proud owner of PLEIN PUBLIQUE and makes amazingly good collections, Ilse writes as a freelance copywriter mrsalwayswrite.nl for (fashion) brands and web shops. Together they "knit" a monthly blog about fashion and trends. They love it. And hopefully you do too.