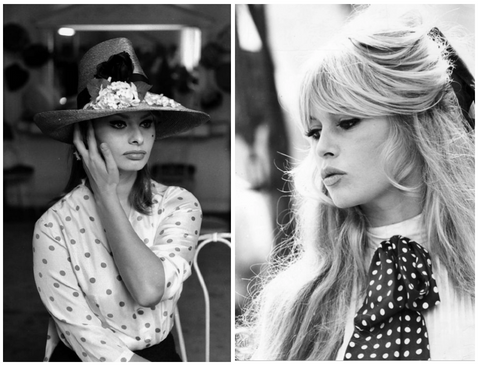 The history of the Polka Dots in fashion
THE PRINT THAT HITS THE SPOT

Question ... Which print hits the spot? Is as well both streetwise and classic, and looks great on any cloth?
Once?
Again?
Wait for it ...
None other than THE POLKADOT, or the dot print.

This iconic classic among the prints is back this season and is a star in the new PLEIN PUBLIQUE collection. And you may know us by now: We love to tell you about the Wonderful Fashion World. So, the polka dot? It is spot-on. We just have to write about it.
PERFECTION AS STATUS
Strangely enough, the dot didn't hold the number 1 spot (ha) in the popularity ranking until the 19th century came around: before, dots were associated with diseases such as smallpox, measles and the (bubonic) plague. Not a good look.


Why perception suddenly changed in the 19th century is a bit of a mystery, although the industrial revolution provided innovative machines with which perfectly formed patterns could be woven. A circle is one of the purest shapes and thus a smart "proof of competence" to demonstrate the new machines.


For the well-off higher classes it was once again an opportunity to flirt with status; they could afford the fabrics that the pretentious high-tech machines made, distinguishing themselves from the working class that had to make do with handmade products. Funny how the roles of mass production versus custom made handicrafts are reversed these days.
BUT WHY POLKA-DOT?
How a dotted design got the name polkadot? An early case of marketing strategy forms the underlying cause.


In the 17th century, the Czech folk dance Polka was extremely popular. Clever manufacturers who wanted to bring more attention to their products, linked the term polka to everything in sight, no matter whether it was relevant or not, because the polka certainly was. The first officially documented mention of the term polka dot appeared in the American magazine Godey's Lady's Book in 1857, with the following description: "Scarf of muslin, for light summer wear, surrounded by a scalloped edge, embroidered in rows of round polka dots. " Point taken.
DANDY COOL
And as usual ... the first fashion icon to popularize the dot was a man. The late 20th century English überdandy Beau Brummell adopted the dot as a trademark: he wore dotted waistcoats, ties and pocket squares (a small piece of cloth that was visible from out of the breast pocket and used purely for decoration). We also find Bob Dylan and Andy Warhol charmed by the same Dandy Cool style.
MISS & MINNIE
America couldn't just stand by and watch of course: two All American Icons - funnily enough complete opposites - made the polkadot immortally popular. First of all was Miss America 1926 Norma Smallwood: she rocked a high-profile, form-fitting swimsuit with a polka dot pattern at the time and sales of all things polkadot went through the roof. Minnie Mouse - dressed in plain Jane uni on her "debut" in 1928 - picked up the trend after and gave it her own comic character twist, eventually complete with a cute bow on the head. Two hugely diverse ambassadors provide the proof: the polka is everyone's friend.
DOTS HERE, DOTS THERE, DOTS EVERYWHERE!
Top designers from the past decades are also drawn to the polka dot: Carolina Herrera (l) and Rei Kawakubo from Comme des Garçons (r) adopted it as their signature look and a permanent fixture in all their collections. Who doesn't remember the legendary collab between Comme des Garçons and H&M?
POINT TAKEN
Point made. From Hollywood to Hoogeveen, from high society to the factory canteen; the polka dot is a social phenomenon with which will always and everywhere appear styled to perfection. An investment piece for which you do not necessarily have to empty your wallet. And that is always a good thing.
Last point: don't forget to check out our own PLEIN PUBLIQUE polka dot items! Aren't they just a-dot-able?



Liefs, Nicole & Ilse